Online Spoken English Course Description
If you are an independent user of English Language and wish to increase your communicative efficacy by speaking more fluently without fear of public, the EMAS Speak English Intermediate programme is for you!
You will be able to increase your fluency and solidify your accuracy in Spoken English language. You will be able to avoid confusion in a message caused by incorrect vocabulary, faulty pronunciation and inappropriate sentence structure. Through the programme, you will be able to confirm your own understanding in a given context, apply social and cultural rules while speaking, improve your confidence for public speaking and will be able to enhance your sociolinguistic competence. After completing the online spoken English language course in Lahore, Pakistan you will be awarded a certificate from EMAS GLOBAL.
Our Speak English Advanced Level Programmes Focus on:
Improving speaking ability in English both in terms of fluency and comprehensibility
Expressing ideas fluently, accurately, and appropriately
Comprehending and responding appropriately to contextual situations
Expressing opinions and supporting them with examples and facts
Developing presentation and public speaking skills
The Spoken English Classes Aims to:
Foster the analytical, critical and creative skills of our language learners so that it is an enriching experience for them.
Involve learners in various communicative activities supported by the use of authentic materials such as newspapers, reports, short films and literary texts.
Follow the communicative approach and will focus on the three modes of communication: interpersonal, presentational, and interpretative.
---
This course is suitable for:
B1 level intermediate language learners
Students preparing for Cambridge English Exam
Students and professionals preparing for IELTS, PET or life skills
Public Speakers
Professionals who wish to enhance their spoken expression
---
Course Includes:
20 sessions, 90 minutes long, thrice a week
Pre, Mid and Post evaluation to gauge progress
Authentic content chosen carefully considering the interest and capability of the participants
---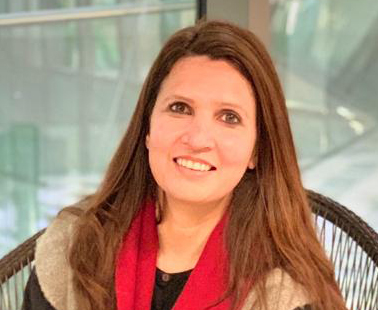 Rabia Shafi (Certified English Teacher & Trainer)
Rabia Shafi has an experience of over sixteen years teaching and teacher-training across public and private sectors such as the British Council, Opportunity International, BETS, The City School and Roots International Schools to name a few.
She has acquired a certificate in Teaching Live Online and Moderating courses from The Consultants E to transition to virtual medium effectively.
In addition, she holds a Master's degree in English Language and Literature and an MPhil in Applied Linguistics. She completed her CELTA (Certificate in Teaching English to Speakers of Other Languages), and Teacher-Training Qualification namely Professional Award for Teacher Educators,  British Council. She has extensive experience training teachers and teacher-trainers as well as teaching English as a Second Language (ESL) to adults. She has expertise in conducting conversation classes in English for speakers of other languages along with being an IELTS instructor.
---